Luci Martin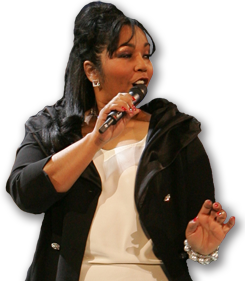 Born in the Bronx and raised in the borough of Queens, NY, this brown skinned Hispanic of Puerto Rican decent began her career on a whim. A member of a local dance group, her friend convinced her to go to an open call audition for a touring company of a well known Broadway play. With no expectations other than something to do, she went only to learn that singing was also a pre-requisite for the gig.
From that point on, she began her professional career, singing and dancing her way in local bands, theatre shows and recording sessions. She worked alongside Norma Jean Wright as a team in soul/rock group ESP and toured in Canada where she lived for 9 months and was part of a musical production featuring the late "Divine". Following her stay in Canada, she returned to meet Nile Rodgers, Tony Thompson and Bernard Edwards through Norma Jean and joined the now historical group "CHIC". It was there she met Alfa Anderson who became her sister vocalist with the group after Norma's departure to record her own album and for the next several years enjoyed recording albums and touring during the groups heyday. Her voice could also be heard on many of the top selling records of such artists as Diana Ross, Carly Simon, Deborah Cox and Sheila B as well as European artists, such as Joey Negro, Romina Johnson, and others to many to remember.
The group disbanded in the early 80's, and from there Luci saw the opportunity to continue her education and spent several years devoting her life to caring for others. Working tirelessly alongside physicians and surgeons she discovered a love for healthcare and the satisfaction of giving comfort to those in need. Medicine stimulated the mind while art stimulates the soul and she found herself lucky to hold a piece of both. She co-wrote the song "Let's Bounce", with a group out of Japan named GTS, as well as wrote and did some vocal arrangements for several gospel artists, while still accepting singing jobs and background sessions; she managed to balance both her private and her personal life for quite some time.
It seems inevitable that after hanging out and jamming one night at Ashford and Simpson's "Sugar Bar" with Alfa and Norma, the old magic would prove to be intoxicating and the three should discuss dong a project together. Combining a multitude of experience and skill, the three took the obvious as a moniker and "Reunion" was born, and soon after the three of them along with Lisa Fischer went in and recorded a new song entitled "In My Lover's Arms".
In January of 2014 Luci, Norma, and Alfa teamed up with Martha Wash, and Linda Clifford, under the umbrella of First Ladies of Disco and they are planning to work on several new ventures together.

The rest of this bio is now subject to you, the reader, as we present ourselves, not as a copy of what was, but as a compilation of years of untapped creativity brought to fruition.
More Info